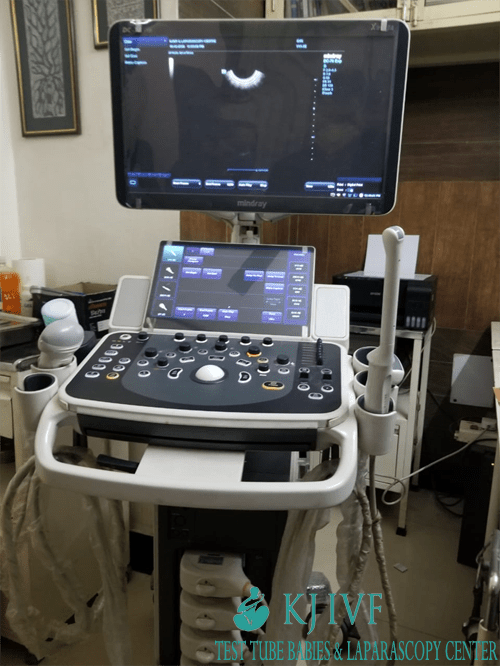 Ultrasound for Infertility: The DC 70 Exp Mindray ultrasound machine, with advanced features like (Mindray DC 70 X-Insight Ultrasound color doppler system, SC 6-1 E Single Crystal Convex Transducer, V 11-3E Endo-Vaginal Transducer with SS Biopsy, D7-2E Convex Volume Transducer, DE 11-3 Endo-Vaginal Volume Transducer, iPage+, iLine with hyaline, SCV+, smart FLC, Smart Face, Face+, STIC, Depth VR, Smart 3D, Colour 3D, Smart Plane CNS, Smart OB, Smart NT, Active 4 Transducers Port, Free X Ros M, Wi-Fi Adapter, DICOM Basic, Shared service Package). It is our constant endeavor to provide the best services with state-of-the-art technology.
Ultrasound for Infertility
Ultrasound infertility became an important help for the diagnosis of infertility problems by the demonstration of the pelvic organs, growing ovarian follicles, intrafollicular structures, and of cyclic uterine endometrial changes. The results of more than 8000 scans allowed the deduction for ovulation induction, which would be good if the preovulatory follicular diameter was between 18 and 24 mm. Where two or more follicles of that diameter are present, multiple pregnancies that occur. The importance of ultrasound is even higher than estradiol because it is not possible to differentiate between one big, some medium or many small follicles with hormone assays. It is possible to observe the cumulus oophorus, but not earlier than 1–2 days before ovulation.
Following successful ovulation, the mature follicle becomes visible to be more solid than cystic makeup.
Cyclic changes in the histology of the endometrium are described and make it probable to predict ovulation within 12 hr. Ultrasound is an important help in predicting the time of the ovulation more accurately than the basal body temperature and faster and cheaper than hormone profiles.
Ultrasound has a very important role in the management of infertility. A good and comprehensive USG can replace diagnostic tests like serial hormonal tests needed to monitor and assess the patient. In infertility the prime requirement is assessment and the best assessment is done by the treating doctor as he can then modulate the treatment accordingly. So the success of IVF depends on good USG. We again boast of a good in-house department.
Ultrasound Facilities at KJIVF:
KJIVF has in-house Ultrasound facilities
We excel as our centre has the latest 3D/4D USG machine
Our team of experts has tremendous exposure, involved in training programs, conferences/CME/workshops, in scans related to infertility
Headed by Bharti Jain- an academic can, the researcher who has written chapters in many books/published many papers.
Our Facilities:
Antenatal Scans: Complete antenatal scans- including all anomaly scans (NT scan, 18th scan); color Doppler, 3D/4D scan
Infertility Scans: Follicular monitory, evaluation of endometrium, assessment of endometriosis/adenomyosis
KUB Scans. Kidney Stone Assessment
whole abdominal scans
USG in Male Infertility: Infertility scrotal scans
3D/4D scans on infertility to assess abnormalities in the uterus with the aim of planning treatment
Our USP is: We not only diagnose/assess but also plan and modulate treatment. We also assess the prognosis ourselves based on scans.
This reduces the errors.
Also, optimized scans help to monitor patients non-invasively. They help to keep the IVF/ICSI cycle simple by doing away with /minimizing hormonal assessment. And since we assess abnormalities of the uterus like septum and adhesions, surgeries can be planned better. Also, these surgeries are done only in cases where they are required.
For more information, Call Us at +9196507 25386.